I enjoy being a sailor and have been cooking on my sailboat for over 20 years.  My goal for this food blog is to offer healthy and delicious recipes that you can make as easily in a galley or at home.  I grew up in Germany in the 1960's and 70's where my parents were teachers for the US military school system.  After graduating from Kaiserslautern American High School in 1978, I studied Civil Engineering at Oregon State University.  That is where I met my husband Dave.  After graduation, we lived in Japan, Germany, and California. Then, after 27 years in Delaware, we now live in Port Ludlow on the Olympic Peninsula in Washington State.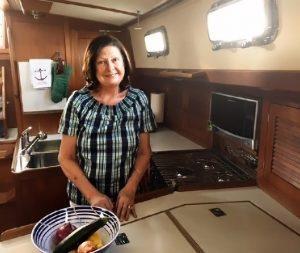 While in Japan in the late 1980's, we didn't have much availability for Mexican food.  So, I made my own tortillas there and learned to love Japanese food as well.  One of my favorite Japanese recipes, still is grilling chicken yakitori with ginger, garlic and soy.
After our 4 years in Japan, we moved to Germany.  It was a thrill to move back Europe as an adult.  Learning to make Wiener Schnitzel (Vienna style veal) and Spätzle (small egg dumplings) worked out, and those dishes have become our traditional Christmas meal.
In northern California, I learned more about paring wine with food. We needed a new challenge after moving to the East Coast in 1995, so we took up sailing.  It has been a pleasant surprise that given a little effort, cooking and sailing go together very nicely!
I would like to finish by saying "Guten Appétit".  I hope you will savor many delicious meals, and possibly some from this blog, with family and friends for years to come!
From my galley to yours!
Jill