High tea is a British tradition and a great way to enjoy a special occasion. In England, it usually happens around 2 p.m. in the afternoon. It's a wonderful time to chat with friends and family over an assortment of tea, small sandwiches, and sweet treats. There is no single way to do a festive occasion like this for Mother's Day, birthdays or even a day out with friends. It's such a flexible and fun party to prepare. My suggestions are just for my favorite tea sandwiches, but there are other goodies you can include. I like to go back to Ina Garten's (Barefoot Contessa) advice, that no matter the occasion, make some things from scratch and buy a few others that are well made. I am not as gifted as a pastry chef so I buy those items from my local favorite bakery. Making the small tea sandwiches is easy to do. Have some varieties of tea on hand and some champagne if this is a special get together. There really is no hard work in having a high tea party for your family and friends!
Small pastries from your favorite bakeries (2 -3 per person)
One cucumber, sliced thin
One brick of spreadable cheese (like Brie or Boursin)
Whole Wheat Bread (or Dark Pumpernickel)
1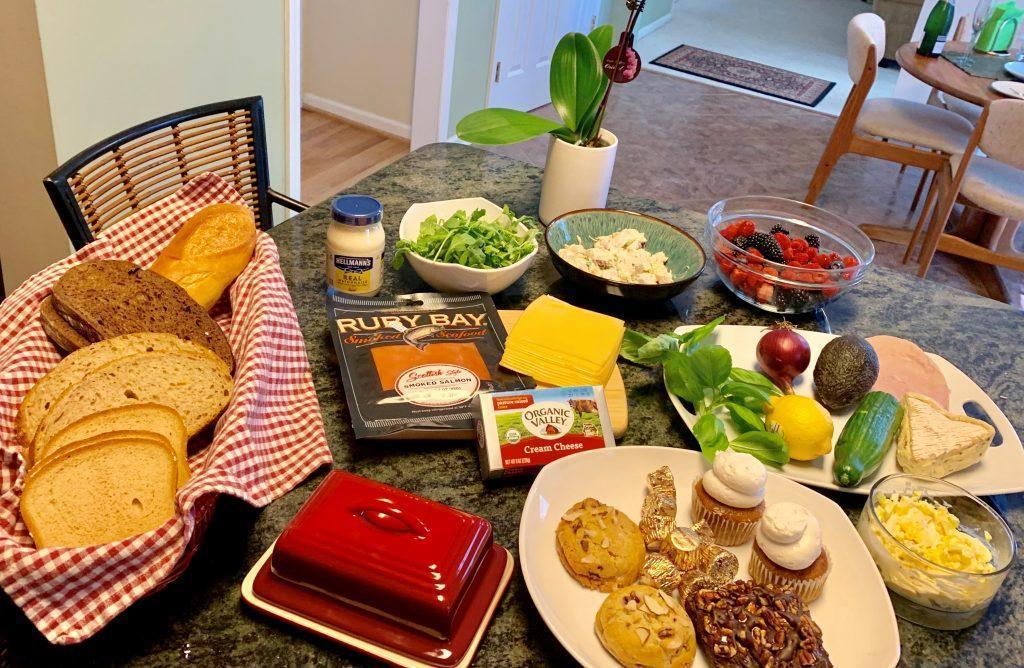 2
This is how I do high tea. Use a three-tiered cake server. Place your sweet desserts on the top two levels. The bottom level can be for your small tea sandwiches, which are very simple to make. I like to use 4 different types of bread. First, trim the crusts off all sides of the bread except the thin baguette slices. Plan on having 4 little sandwiches for each guest. The 4 classics I like to use are smoked salmon with minced red onion and cream cheese on thin baguette slices; thinly sliced cucumbers and boursin cheese on triangle rye bread slices; open faced egg salad with a topping of fresh basil on a triangle sliced wheat bread; and chicken salad with arugula on triangles of a darker bread like pumpernickel. Keep in mind that if you have a reputable place that makes egg salad or chicken salad, you can purchase from those stores. I prefer to make the egg salad myself and you can find my recipe for Egg Salad on this link. I guess it's just fun to bring some elegance that's easy to create for a special occasion. Servings are three sweet treats and four mini sandwiches per guest, and don't forget the tea and champagne!